The Fox Inn Bed & Breakfast, The Lucy Hall Fox Room, Penn Yan, New York
Mailart Received:
From Roy Arenella: Postcard of "S.KIN" with a brief note concerning the lack of any true pwoermds in Ken Gangemi's Lydia (the question of their existence in this book appeared in the bibliography of my anthology of pwoermds,
&2
). Dated 13 May 04 and Roy's 177th of the year, the card includes a rubberstamped address separating the message from the recipient's address and is topped with an artist's cancellation stamp. The last may explain why the two ancient stamps (8 cents and 15 cents) on the postcard arrived without any official cancellations.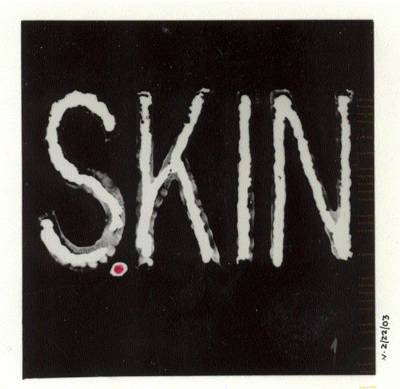 Roy Arenella's "S.KIN"
Mailart Created:
Four large Popeye postcards (one retained, the other three mailed), the message of which is the asemic text of "Inscriptions on Birch Bark" written in layers of color (black, blue, green, then red). Numbered qbdp # 5 (the first four numbers of qbdp being reserved to retroactively number the first four issues of my mailart zine, Film Clips). The name "POPEYE" on the card I Saroyanized into "POPEYEYE." I wrote one line of the text of the tiny visual poem on the face of the postcard, a different line for each card: line 1 for the first item in the printing, line 2 for the second item in the printing, etc. Each postcard includes calligraphic addresses written in blue. Cards numbered thusly:
1/4 Ruth and Marvin Sackner
2/4 Bob Grumman
3/4 Roy Arenella
4/4 qbdp
Note
I've decided not to track mailart to my own family, such as tonight's decorated envelope to Nancy, the found text postcard to Erin, or the weak concrete poem and the discussion of "correspondance" that I created for Tim.

qbdp # 5 (obverse)

qbdp # 5 (reverse)
un violon d'ingres