Today, there arrived two postcards from Roy Arenella, both responses to blogs of mine. A new exchange paradigm is in play.
1st Postcard
The first card is from the 16th of June (Bloomsday) and decorates my surname (appropriately, punningly) with a fedora. On the reverse is the word "BLOT," with the O formed out of a beautiful blot. This is mailing 246(A)XC from Arenella's mailartworks, and the text of the message corrects his previous mailing: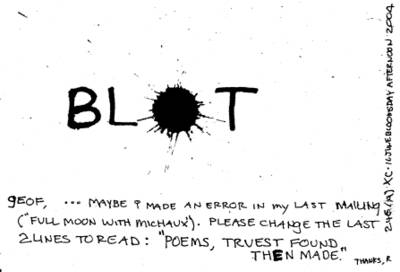 Roy Arenella's "BLOT"
2nd Postcard
This second card is a photocard of "head-on self-portrait(s),"
Roy Arenella's "Head-on Self-Portraits"
is dated 21JUN04 and is numbered "251 p/cc." (I've dispensed with trying to interpret the letters in the numbering system, but this is Roy's 251st mailing of the year!) The message on the back of this card addresses the issue of mailart blogging:
Roy Arenella's "On Seeing Your Recent Blog Entries"
un violon d'ingres