Southgate Tower, Room 2508, New York, New York
I'm so far behind in talking about mail that I will do this briefly and incompletely, but at least there are still pictures!
Ficus strangulensis sends this image but reports:
Dear Mail Art Correspondent, I may be out of touch for a while [helping care for my parents]. At least that's the 'plan' right now.
Yor ol' bud, Fike 14 Sep '04
Ficus strangulensis, Untitled (12 Sep 2004)
Scott McDonald sends we a weird "altered" postcard, which explains to me (though maybe not to the general public) that he has figured out how to postcardize inkjet transfer film.
Scott McDonald, Altered Postcard (17 Sep 2004)
Roy Arenella sends another surprise. A V-mail letter fifty years after the fact, and he's stuck a postcard inside the thin skin of the V-mail envelope—which reminds me of my Portuguese childhood when the cook would find a whole sardine resting inside the delicate body of a squid. Roy's letter concerns the spelling of the word "visibly," which is kind of interesting, given that V-mail was a mode of communication with a number of visible elements: the censor's stamp (interestingly re-created by Roy on this letter), a particular template that people had to write within, and the fact that most V-mail was microfilmed to reduce the amount of material that needed to be shipped back to the US.
Roy Arenella, V-Mail Note, (17 Sep 2004)
Tonight, I also created a 10-piece issue of qbdp, wrawn upon light-tan, pH-neutral, lignin-free board I found in the trash at work in the form of small boxes and which I cut into 102 small postcards.
These were the recipients of "FATE" (qbdp # 28):
1/10 Ruth and Marvin Sackner

2/10 Bob Grumman

3/10 Roy Arenella

4/10 kiyotei

5/10 endwar

6/10 Scott McDonald

7/10 Ficus strangulensis

8/10 j0llyr0ger

9/10 Erin Huth

10/10 qbdp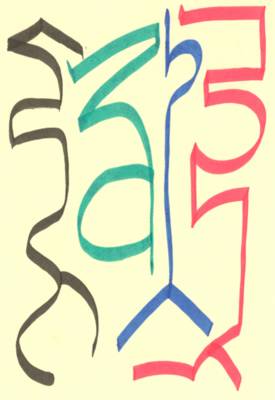 Geof Huth, "FATE" (Sep 2004)
un violon d'ingres