In this most recent mailing of Roy Arenella's, he writes, "Sometimes I can't believe how slow I am--in things that should be important to me." Well, he is not alone.
Late last year, Roy sent me
a couple of versions of a little visual poem he was working on
. Somehow, I could recognize the letters in the poem, yet I could not see the obvious word they spelled out! (which is "iNotA" to me and "NOTA" to Roy. Take a look at this version he included in the current mailing: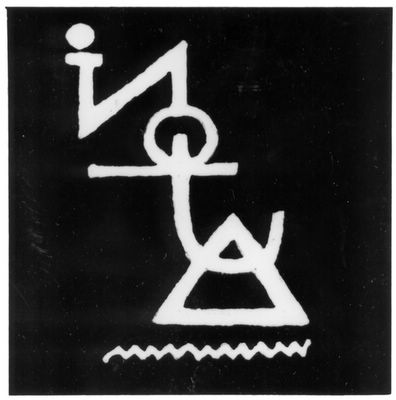 Roy Arenella, "iNotA" (7 Jan 2005)
The piece is only better, now that I can read it! But, boy, is this embarrassing. It's amazing how long a mind sometimes needs to perceive the obvious.
In this package from Roy, he also included a few Samurai Global Co mini-notebooks (thanks for those!), which "visual writers love to love," a meaty letter (which reminds me I need to write a bit about Japanese visual poetry), and a little gift of visual writing for me:
Roy Arenella, "Radio g" (21 Dec 2004)
This mailing from Roy is # 18L+E (the eighteenth mailing, consisting of a letter and enclosures).
un violon d'ingres