Still Point, Garlock Road, Caroga Lake, New York
This has been a busy week of mailart, most of which is detailed below. For more on Roy Arenella, see the blog essay, "
Who is Roy Arenella and What is He Doing in My Mailbox?
"
Received 15 Jun 2004
First from Arenella:
A brown envelope rubberstamped on its front with a rabbit (hare?) inside of which is stamped a tortoise. Inside is a note from Roy about a recent blog note from me
about him and perplexity
and a copy of a found poem created from an altered headline, "Ample Perplexity Amid Plenty of Choices."
Roy Arenella's "Ample Perplexity Amid Plenty of Choices"
Second from Arenella:
A yellow envelope with a rubberstamping of a window that includes three additional stampings: a rocketship in the upper pane, and a B and a P in the lower one. Inside is an inscrutable response to my
obituary of Bern Porter
. First, a sheet reproducing two pages from James Schevill's Bern Porter: A Personal Biography, which reproduces Porter's collage "Profile of Henry Miller In Bird Cape with California Mountain." Next is a full-page reproduction of the same collage, with a new date and a new signature of Bern Porter's in red ink. This page is rubberstamped "COPY," and is "copy # 6 of 7." This was mailing "239 X" (X?) for Roy, dated 11 June 2004.
Received 16 Jun 2004
From Arenella:
A photocard of "A Visualist" (dated 19 Jan 2003 and the 244th mailing of Roy's mailart year), the reverse with a pseudo-cancellation that includes a rubberstamping of the same Visualist and a note about the
coincidental appearances
of his and my work on the same page of
Lost and Found Times
.
Received 18 Jun 2004
From Arenella:
A thin grey envelope opening on the side, rubberstamped with a printer's fist pointing at the note, "This is something not artwork."
Inside:
a piece of reused white card, trifolded.
Text:
Bedside Table Post-It Reads:

Full Moon with Michaux [followed by a Post-It reading the same]

Means What? This Morning


"The Mere Ambition to Make a Poem is Enough to Kill It" Henri Michaux


This in My Own Experience is True / Poems, Truer Found than Made.
Roy Arenella, "Bedside Table Post-It Reads"
Evaluation:
All of this provides us with a startling review of the methods of the mind: Not wishing to lose his ideas, Roy writes himself a note while in bed at night (maybe even many every night), yet in the morning not all of his notes remain meaningful even to him.
Back Text:
Handwritten reference to a blog essay of mine ("
My preferred method for writing is thinking
.") followed by a note ("This is one of the ways I write how I write.").
Outgoing Mail
A small fidgetglyph entitled "moonn" and wrawn completely in black onto six 140-pound cards. I chose this fidgetglyph because I had already prepared these six cards many months ago, and because the glyph represents the moon, clouds, water, fish, and reflections of East Caroga Lake, which I'm sitting beside as I type. The cards went to the following people:
1/6 Ruth and Marvin Sackner

2/6 Bob Grumman

3/6 Roy Arenella

4/6 Matt Shindell

5/6 Guy r. Beining

6/6 qbdp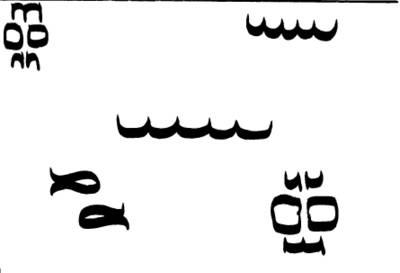 Geof Huth's "moonn" (qbdp # 10)
un violon d'ingres