My wife, the inestimable Nancy Huth, onetime teacher of the year in Schenectady, wonder of wonders, woman of my life, decided that she would include a mailart unit in her creative writing class! She taught--imagine that: taught!--her class mailart, and she gave her students the assignment to create a piece of mailart on the theme of fall.
So we had a little mailart project going on in our house, with a twist. Nancy didn't want to make her students pay for the postage to mail out the cards, yet she knew that the mailing of the cards was essential to making this mailart, so we added the postage ourselves, and from Albany I mailed the art back to us in Schenectady. Over two days last week, all the pieces arrived safely back home.
I've decided to document a little bit of this mailart show tonight, and I'm pleased at the breadth of imagination exhibited by these young minds.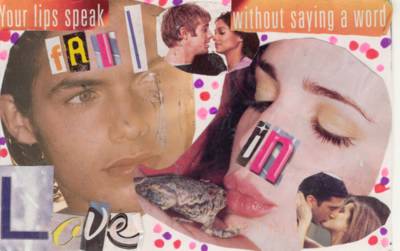 Imbody's "Your lips speak" (Oct 2004)
Imbody has done a great job putting together a girl-centered postcard collage. She glues together many little bits from glossy magazines to present us a kaleidoscopic look at fall love. The obverse of the card includes a little poem, a bit of collage, multiple magic-markered dots, and little rhinestones glued to the page. Amazingly, all of these made it through the mails to our mailbox.
Kirkham, "Fall Fashions" (Oct 2004)
Kirkham, creator of "Fall Fashions," decided to make her "postcard the shape of a leaf, and on the other side fall fashions." She surprises us by drawing a connection between the natural process of autumn and the cultural process of fall fashions.
Lupo's "Wishes Granted" (Oct 2004)
Lupo begins with a postcard of a waterslide, then she punches stars out of it and collages over it, creating a multi-dimensional feel to this simple card: A beautiful design that holds together quite well. On the obverse, she explains, "When I heard the word 'fall' I thought of falling stars and dreams so that's how I came up with this idea."
Tallman's "happy fall!" (Oct 2004)
Tallman's card is quite a production. The side you see here she created from a swatch of plaid cloth, upon which she collaged pictures of plaid! On the reverse is a remarkable collage of torn pieces of paper piled on top of one another. Some of the collage (faux hair) is glued or taped down only partially, allowing the hair to blow in the breeze. This card was so delicate that I had to package it in a transparent bag before mailing it back to us.
And that is a brief rundown of part of Schenectady High School's first mailart show!
un violon d'ingres