Scott McDonald has (or had) in his possession a number of used postal cards (the USPS's term for a postcard printed by the Postal Service complete with postage). He has slowly been recycling and redistributing these 1-cent cards as a form of mailart.
Votatile
Scott is, apparently, thinking of elections (the 2000 elections, with vote-counting questions in Florida, and our current presidential election about to occur). Originally, this card was mailed to Katherine Praetz of Brooklyn, New York, on 2 October 1943. Sixty-one years and three days later, Scott turned the card upside-down and addressed and mailed it to me. The card, originally mailed out by the Democratic party, urged Katherine (of the 20th assembly district) to register to vote by October 11th, and the card explains precisely how and where and when to do this. Scott, mimicking the punchcard voting system of parts of 2000 Florida, punctured the card, as if voting himself.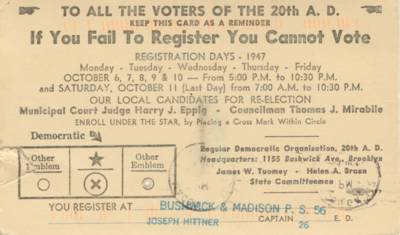 Scott McDonald, [Voting Registration Reminder] (5 Oct 2004)
Lou Reed, Haiku
Scott's other recycling is a card mailed to Mrs. J. M. Leonard (of New York, New York) from Plainfield, New Jersey, on 13 February 1943, with this most quizzical message:
Elastic Stop Nut
Union, N.J.
Over this message, Scott has written (in purple, blue, yellow, red, and green) a "haiku" created out of titles of songs from Lou Reed's solo career and his career with the Velvet Underground:
Berlin: Waves of Fear
Vicious, Heroin, Sweet Jane's
Walk on the Wild Side
Scott McDonald, "Elastic Stop Nut"/Reed Haiku (Oct 2004)
un violon d'ingres