Another day, another stash of mail, a few more delicate artworks to file away so I can find them again in times of trouble.
Trying to verify the order of creation of these pieces is often difficult. Sometimes, the artist has not dated the piece, at other times a date on the postcard has been obliterated by cancellation marks, and at still other times the dated cancellation from the postal service hits an unsteady part of the card and becomes unreadable.
kiyotei's "Ryosuke C."
I'm fairly certain that kiyotei (who is out in Carlsbad, California) created the first card in this chronological sequence. The obverse contains a photograph of a roadrunner against the reddish desert to which kiyotei has added a few characters of asemic writing with a red marker. The reverse of the card includes an artist's stamp ("Matangi Island Diva"), a few rubberstamped Asian characters, and a fidgetglyphic wrawing by kiyotei entitled "Ryosuke C." and identified (I assume) as part of "SPELL SERIES ATCS."
Ryosuke Cohen
, is a famous mailartist from Japan. (I once—I think only once, but I could be wrong—contributed stampings to Cohen's weird rubberstamp sheet/zine,
Brain Cell
.)
kiyotei, "Ryosuke C."
In "Ryosuke C.," kiyotei twists the letters of that name around and through each other, developing a design reminiscent of ancient Celtic labyrinths—an awful lot of significance for such a small piece.
A Rare Unnumbered Arenella
Roy Arenella sent me a piece of "small mail": a repurposed envelope from Rahman Contracting in Brooklyn with a rubberstamped printer's fist pointing at my name, over which float a bowler, a panama hat, and a conical hat that might be a clown's head covering in a commedia dell'arte performance. Inside, there is a trifold sheet of paper, the upper third of which is covered with a xerographically enlarged "Long Island NY 117" cancellation (dated 17 DEC 1989), which includes the outline of Long Island. Roy has added numerals and a legend identifying the locations of 1. Brooklyn, 2. Riverhead, 3. Jackson Heights, and his own 4.est Hills. (But, hey, who can't point out Riverhead in the geographical crotch of Long Island!?)
Within the folds of the sheet, I find a tiny envelope with the following inscription:
NO NUMBER:
A SMALL RESPITE FOR SUNDAY
Inside rests a small plastic enclosure that holds the flattened lead neck covering—certainly there's a standard name for this?—from a bottle of wine. On the decorated outside surface of the leaden sheet, Roy has written
LET'S EAT, DRINK, AND BE ME-

DITERRANEAN!
and
For geOf
SUNDAY 27 June 'O4
He has crossed the 7 in the European fashion. (As a boy in Portugal circa 1967, this is how my teacher taught me to make 7s, but I gave up the practice at some point after leaving Portugal. I took it up again, however, around 1976 when living in Ghana—strange, since I no longer made the European 7-like 1, and the whole purpose of the cross is to distinguish the 7s from the 1s. I gave up crossing my 7s again in 1988 when I became an archivist. The first job of the archivist is to process records: organize them, refolder them, and pencil titles and dates on the folders. I decided I needed to have a recognizable American hand for that job, and I haven't crossed a 7 since.)
Roy Arenella, "Let's Eat"
The reverse side of the neckpiece carries across its beautiful silver face a charming little concrete poem Arenella created in Paris in 1973. The poem is about the creation of wine, which is quite appropriate since he was typing this out for me on the same day that my wife Nancy and I were taking a tour of the wineries of Seneca Lake (one of the Finger Lakes of New York). As I write this, I'm sipping from the one dessert wine we picked up—dessert wines being the only ones sweet enough for my fruit-juice-craving palate.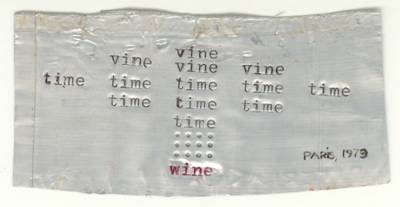 Roy Arenella, "vine"
Signs of Roy Arenella
On 28 June 2004, Roy created his 268th mailart mailing of the year, a photocard entitled "SIGN CITY" (photograph taken in Queens on 7 Sep 1998). The pseudo-cancellation stamp includes a rubberstamping of an old-fashioned field camera. Roy explains that his photocard responds to
a blog entry of mine on the signs around us
:
GEOF
RE
RE
CENT
BLOG
POST
(6/26/04)
He adds this note, which mimics the visual field of his photograph:
UNDER THIS SIGN
WE ALL LIVE
Roy Arenella, "SIGN CITY"
un violon d'ingres