I hesitate to say anything about this card--it is such a perfect intellectual whole by itself that any commentary by me could ruin it. So find both sides of his postcard below.
It is hard, however, to avoid a few simple comments. Roy is still mulling over my micro-essay, "
Collards and Poetry
." This is card # 455 p/c (a photocard, and the 455th mailing of the year). In his notes on the reverse of the card, Roy asks, "Does this genre [visual poetry] give the mind lever-/age over the heart?" Maybe it does, but look at how Roy leverages the word "leverage" by tmetically severing it into "lever" (the center of the pun on the obverse of the card) and "age" (time, oldness, era). Then he places a red heart within a triangle within his pseudo-cancellation mark. Notice how the heart (within triangle) replicates the heart (found within a diamond shape) on the postage stamp he has chosen.
Always, as Roy Arenella always says, connect.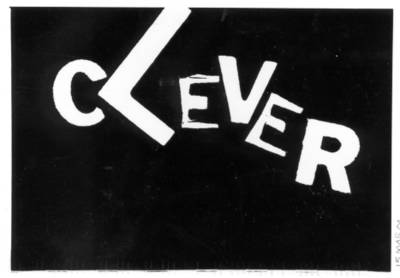 Roy Arenella, "cLever" (15 Mar 2004)
Roy Arenella, Note on the reverse of "cLever" (12 Nov 2004)
un violon d'ingres