The Brae Loch Inn, Room 17, Cazenovia, New York
I'm now a corporate mailartist, planning out my work before I head off on my business trips.
Today, I took a selection of my found cream postcards (upon which I'd already stamped an image in red), added a sticker to the back celebrating the New York State Archives's twenty-five years of excellence (as of 2003), and added a small note to each correspondent, and I had myself a card to mail out.
The image I stamped on the front was a "stamplage" (an eraser carving carved out of a collage of an image and added text). I made only a few of these ever, but they are some of my favorite visual poems, especially since I ca, n stamp out new originals of the poem at will.
Here is a list of the recipients of "A OMN e" (qbdp # 49):
1/8 Ruth and Marvin Sackner

2/8 Bob Grumman

3/8 Roy Arenella

4/8 Ruud Janssen

5/8 Jukka-Pekka Kervinen

6/8 Nancy Huth

7/8 Erin Huth

8/8 qbdp
Mailart Station, Brae Loch Inn, Cazenovia, NY (8 Apr 2005)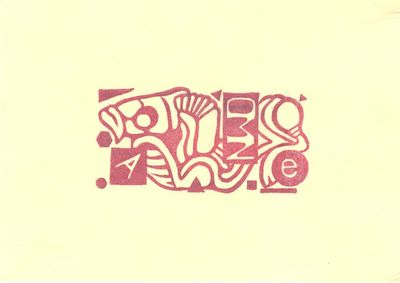 Geof Huth, "A OMN e" (8 Apr 2005)
un violon d'ingres